A tailorable process designed to provide an optimum mix of detail and efficiency.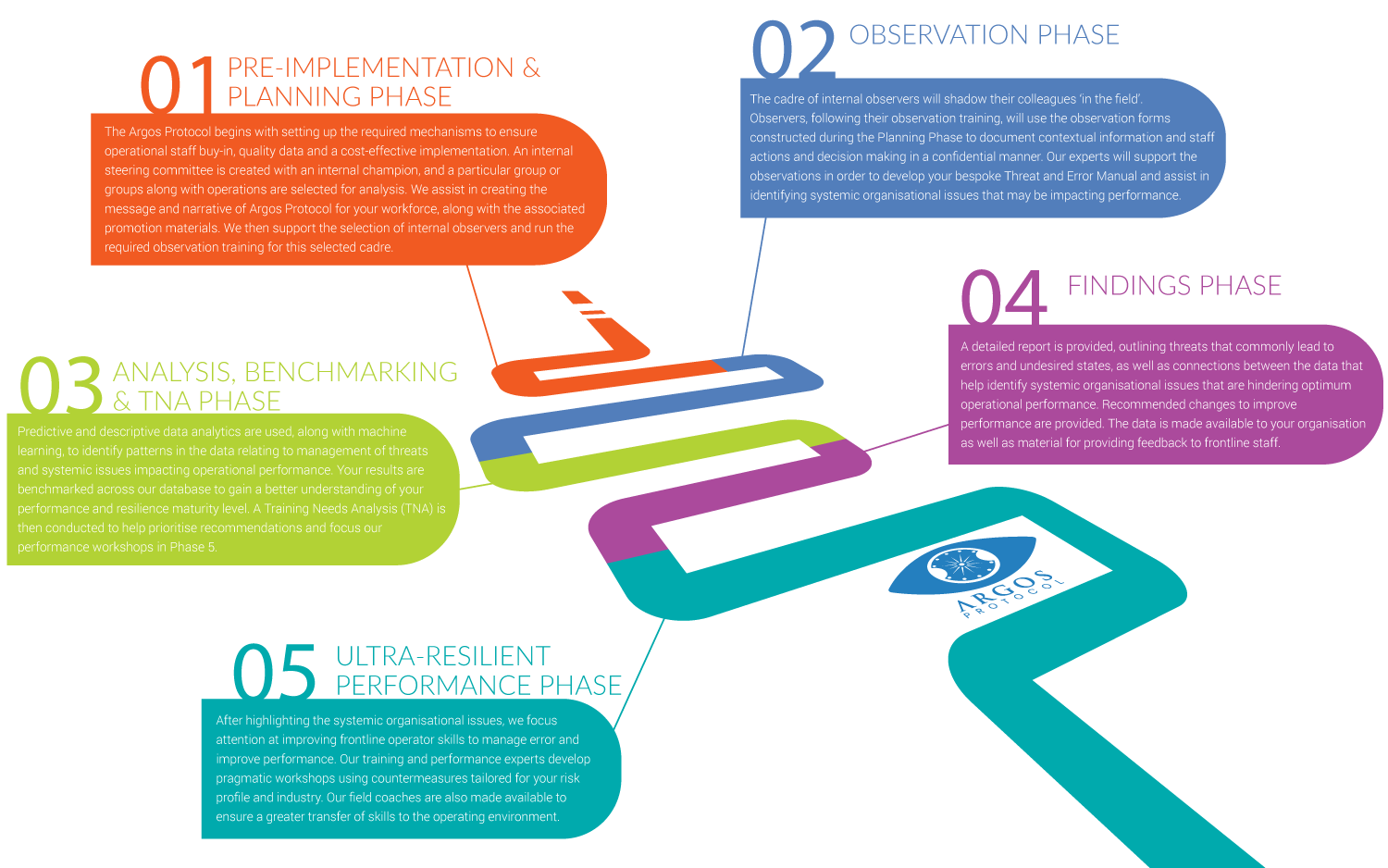 Frequently Asked Questions
Do we require the entire process?
This will depend on the level of capability within your organisation. For those organisations with well established safety and performance teams, consisting of experts in their fields, you may only require assistance with developing the Threat and Error Manual and then the workshops at the end. For organisations without this capability, it is strongly recommended that the entire process be run or at least supported by us.
How long does the process take?
The entire process takes approximately 8-12 weeks not including the countermeasures workshops at the end. Workshops are usually designed to be delivered in half a day to minimise operational impact, however some high reliability organisations may have a number of depots, sites, or offices distributed over a large geographical area. In such cases, rolling out the workshops can take a number of weeks.
How involved are the Argos Protocol Affiliates?
Our Affiliates, including our leads, will work shoulder-to-shoulder with your workforce, usually on-site and in situ to maximise the operational impact of our intervention. Our Affiliates are world class experts in their respective fields and the Argos Protocol leverages this expertise in a holistic manner to improve your operational performance.
How many internal observers will we need?
This will depend on the scale of your organisation and the operational tasks chosen to focus on. A general rule of thumb is about 1% of the operational workforce (excluding office, backroom and supporting roles) in the given area / division / unit of focus.
Why do you need our operational staff to support?
The key to performance change is first changing mindset; and this can only be achieved with buy-in. Unfortunately, traditional safety and performance interventions are often unable to resonate with front-line operators. The interventions are often designed by academics and consultants with limited knowledge of your craft and industry. This is the strength of the Argos Protocol; taking our expertise in human factors, performance, contextual inquiry, and observation, and merging that with the local knowledge and street cred of your operators. Such an approach is far more effective for changing behaviour and winning the hearts and minds of your workforce.
How is this different to other performance and safety initiatives?
Our Affiliates merge their knowledge and expertise with the knowledge and expertise of your operators, resulting in an intervention with a far greater buy-in and likelihood to change behaviours on the front-line.

We are experts in a number of areas that traditional safety and performance consultants have little exposure in; elite military training, cognitive psychology, high performance teams and sports psychology.

We are applied practitioners at heart, with an unrivalled knowledge of the latest scientific research on human factors, cognition, performance and learning.

We are well versed in high-reliability industries and understand the unique operational pressures your staff need to operate under.

We work shoulder-to-shoulder with you from the start to the finish, ensuring your operational risk is accurately identified, monitored and managed.